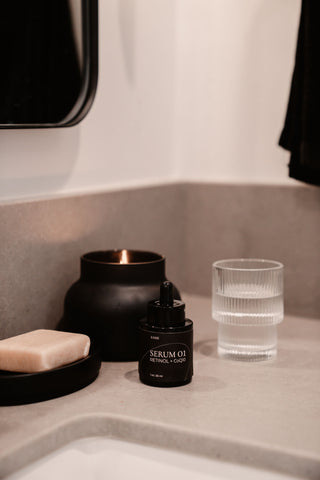 How it Works
So, how exactly do we make premium skincare at lower prices?
How We Develop Our Products
Step 1: Crowdsource
For Collection 01, we started with our favorite products. Our go-to's that we use daily. We also asked our friends about which products they use and love. Collection 02 will be crowdsourced - join our community to help us decide which products to make next.
Step 2: Match
Next, we take your product requests to vetted manufacturers, who match formulation requirements with products already developed in private label. You'd be surprised to learn that we work with many of the same manufacturers as your favorite brands.
Step 3: Improve
Lastly, we take a serious look at the ingredients list to see what we can improve. Can we add hyaluronic acid or certified organic ingredients? Should we remove a unnecessary toxins and endocrine disrupting chemicals ? Yes, we can and yes, we do.
How We Achieve Our Prices
No Brand Tax
Luxury brands spend millions on marketing - advertising, celebrity endorsements, glossy photoshoots, red carpet events, etc. We stripped all of this out to give you the best product at the best price possible. So no, you won't see us on the cover of Vogue. Afterall, we think you are the real stars - shine bright!
Efficient Research & Developement
Because our products are inspired by existing ones, we dramatically reduce the cost of research and formulation development. We do this by working directly with the same manufacturers, labs, and formulators as some of your favorite brands to create our luxe skincare products at a lower cost.
Simple & Sustainable Packaging
Do you know how much you're paying for all that fancy product packaging that you end up throwing away? We do - and it's a lot. So we scrapped it and went with simple designs and reusable packaging that is also recyclable. Mother earth will thank you, too!
Pass on the Savings
We believe in making luxury skincare accessible and pass as much savings onto you as possible. Whether it's cutting costs by simplifying packaging, or doing less marketing, we let you know. And when we save, you save. Together, let's save the world.
Join our Community
Want a say in which products we dupe next? We're all ears! Join our community to help us decide which products to make next, be part of our r&d team, get sneak peaks of products before they drop plus access to tools, education and special offers.